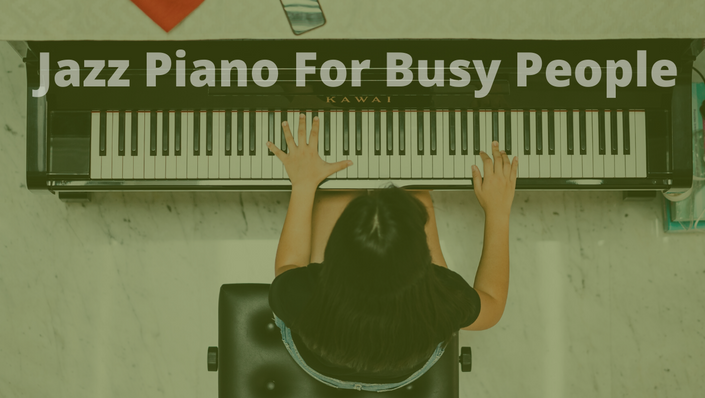 Jazz Piano for Busy People
Course 1 | Jazz Piano Foundation
About This Course
(Coming Soon in 2020)

JAZZ PIANO FOR BUSY PEOPLE SERIES

The Jazz Piano for Busy People series is a suite of courses which are designed to take any pianist from point A to Z in an efficient 6-week package. Course 1: Jazz Foundation is the first, foundational course in the series. If you want to learn jazz piano, and can carve out 20 minutes/day for six weeks, Jazz Piano for Busy People courses are perfect for you. (Check back soon to see the full list of Jazz Piano for Busy People course options.)

COURSE 1: JAZZ FOUNDATION

It all starts here with core skills acquisition in Course 1: Jazz Foundation. In this course you'll become fluent in Voicing & ii-V-I Pattern Positions #1, and #2. Also you'll get a start on applying those voicings/patterns to chord progressions as well as playing them in simplified bossa nova and swing feel styles. In all of the Jazz Piano for Busy People courses, you will apply what you've learned to actual songs so that you can put your new skills to practical use!

Please check back for more: this class is in development.
Your Instructor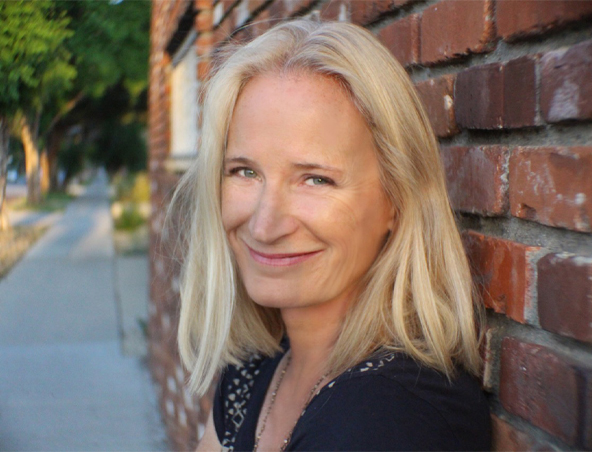 Michele Weir is a veteran educator who has made significant contributions to the development of vocal jazz education around the globe. As an arranger/pianist/vocalist, she is known for her versatile skill set and ability to inspire. As one student put it, "Thank you again for being such an amazing mentor. You are truly the person I strive to be."
Michele's arrangements have been performed by notable vocal groups including New York Voices and the Swingle Singers, with orchestral works played by various symphonies including the Boston Pops. Michele served as Vocal Producer for the Manhattan Transfer's 2009 CD release, The Chick Corea Songbook, also contributing two arrangements to the project. Her many arrangements for educational use are distributed widely through a number of different publishers including her own online company, the MichMusic Store.
Currently on faculty at University of California, Los Angeles (UCLA), Michele is an active teacher and clinician, with past workshops in over 20 countries and presentations for some of the world's most prestigious music conferences including the World Choral Symposium, the Jazz Education Network Conferences, and the ACDA National Conference. She was honored to have been selected as Keynote Speaker for the first-ever International Jazz Voice Conference in Helsinki, 2015.
Michele's educational book/CD sets, Vocal Improvisation (Advance Music), Jazz Singer's Handbook (Alfred Publishing), and Jazz Piano Handbook (Alfred Publishing) are widely-used internationally, and in 2015 she created the first-ever iOS app for scat singers, ScatAbility.

Michele is a former vocal member of the Grammy-nominated PM Singers (under the direction of Phil Mattson,) and her duo CD as a vocalist with jazz guitarist Bruce Forman is titled, The Sound of Music. Past credits as a performer include numerous headliner guest artist concerts for educational festivals as well as on-the-road work as pianist for backup singer Bobby Vinton and others. Michele also had the unique opportunity to serve as Music Supervisor for the DreamWorks film, Prince of Egypt, journeying through Europe and Asia to oversee the music production for the film's foreign language dubs.

www.MicheleWeir.com

Frequently Asked Questions

When Does the Course Start and Finish?
Your course will start and end on the dates you choose. Unless otherwise noted on the Course Homepage, you can take it at your own pace!
How Long Do I Have To Access the Course?
For as long as the MusicHabit school is up and running (hopefully forever,) you have access to the course! It's always available for you.
What if the Course Isn't Right For Me?
We want you to be happy. If you decide the course isn't right for you we offer a full money back guarantee within the first 30 days.
Where Can I Go for Help if I Need it?
Ask a question in the MusicHabit Network Facebook Group for support or contact us directly.
This course is closed for enrollment.