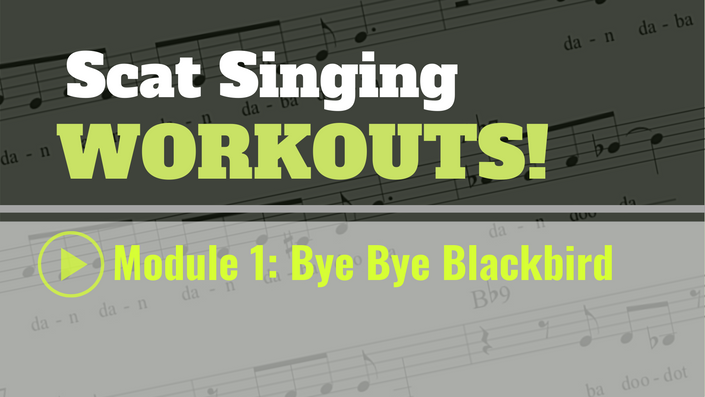 Scat Singing Workouts-C
Module 1 | Bye Bye Blackbird
About This Module
(Available soon, please check back!)

Scat Singing Workouts is a series of Modules to help you boost your scatting ability, and boost your confidence along with it! With a step-by-step process and strategic exercises this class will get you into action while having fun along the way.

All of the Scat Singing Workouts are self-contained, providing everything you need to learn the process and practice the material. Exercises center around the three most important components of vocal improvisation:

1. MELODY

The Melodic Etude provides a model of a well-organized solo, giving you practical experience at singing melodic lines with interesting shapes, differing phrase lengths and motivic development. The Melodic Etude will help you learn to improvise melodic lines that entice the listener, making it easy for them to track your solo as if they're listening to you tell a great story.

2. HEARING THE CHANGES

Having the ability to successfully navigate though a song's chord progression is critical for all improvisers. Luckily: most jazz standard songs contain only two or three tricky spots within their progression, while the rest of the changes are fairly easy to hear. In this Workout, you'll master the tricky spots by singing Harmonic Episode exercises, giving you a whole new freedom to improvise easily though the entire chord progression!

3. SYLLABLES & ARTICULATION

The Syllables-Only Practice Tracks will help you build a solid repertoire of syllable choices. Corresponding to the etude and exercises above, these practice tracks will steer you toward adopting a great rhythmic feel and articulation, essential for your solos to sound jazz-authentic.

This class also available in a version for Classroom/Workshop use.


AUDIO TRACKS & PDFs

All audio practice and backing tracks are available in two tempos:

the regular tempo for this Module's particular song, plus
a slowed-down version for more detailed practice.

Additionally, all Etude and Exercise tracks and PDFs are provided in two different keys to accommodate high and low vocal ranges.


Scat Singing Workout Module 1 utilizes the chord progression of the well-known jazz standard song, Bye Bye Blackbird (medium swing feel) as a basis for all exercises. It is recommended that you learn the original melody to this great song before starting work on this product.
Is This Class for Me?
This Module is suitable for singers at all levels. It's best if you have at least some experience singing, and an interest in jazz music before starting. While this product contains some theoretical info about jazz chord progressions, it is not essential that you have any background in jazz or traditional theory. Even without theoretical understanding, you'll benefit greatly by singing the exercises, watching the videos, and reading the info and suggestions.


---
If you love the idea of a clear methodology for 'how to scat,' guiding you to become confident in your scatting and to really enjoy doing it, this class is for you!

---
Your Instructor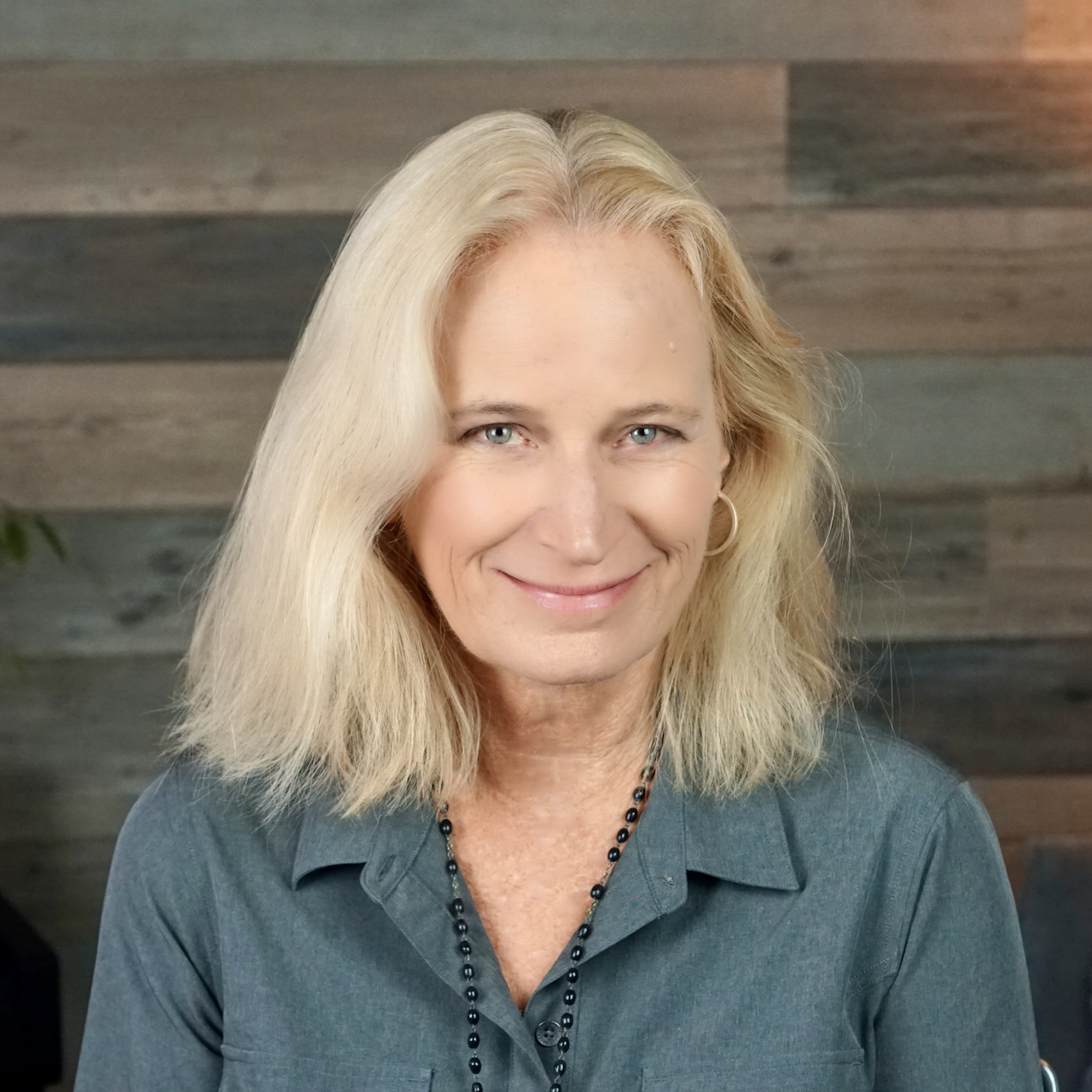 Michele Weir is a distinguished educator renowned for her significant contributions to global vocal jazz education. As an arranger / pianist / vocalist, she is well known for her versatile skill set and ability to inspire. As one student put it, "Thank you again for being such an amazing mentor. You are truly the person I strive to be."

Michele's arrangements have been performed by renowned vocal groups such as New York Voices and the Swingle Singers, in addition to orchestral works played by symphonies including the Boston Pops. In 2009, Michele served as Vocal Producer for the Manhattan Transfer's CD release, The Chick Corea Songbook, contributing two arrangements as well. Her numerous educational arrangements are available through various publishers in addition to her online platform, the MichMusic Store.

Currently on faculty at University of California, Los Angeles (UCLA), Michele is an active teacher and clinician. Her expertise has taken her to over 20 countries, presenting at premier music conferences such as the World Choral Symposium, the Jazz Education Network Conference, and the ACDA National Conference. A notable highlight was her invitation to be Keynote Speaker for the inaugural International Jazz Voice Conference in Helsinki in 2015.

Michele's educational contributions include globally recognized book/CD sets: Vocal Improvisation (Schott Music), Jazz Singer's Handbook, and Jazz Piano Handbook (both from Alfred Publishing). Innovating further, she introduced the first iOS app designed for scat singers, ScatAbility, and recently launched the online educational resource, MusicHabit, designed for jazz singers, pianists, arrangers, and educators.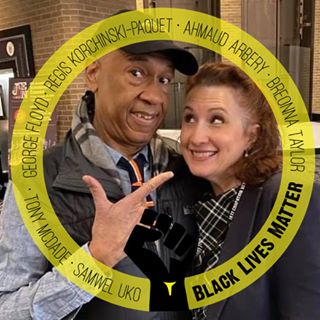 "YOU just have a way of making difficult thing easy (I still tell the story of how for years I couldn't understand what an altered dominant was and you explained it in less than 2 minutes!)"
- Wendy Jones, One World Voice Studio & Western Carolina University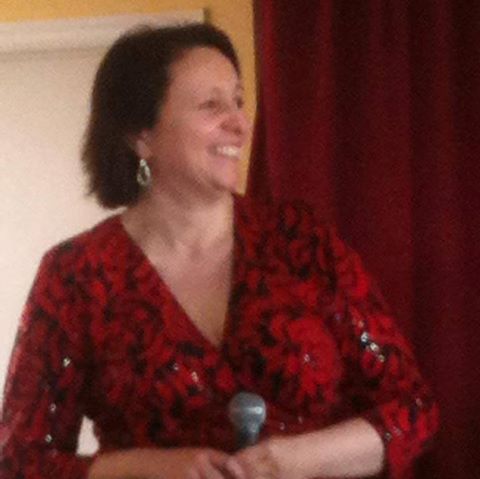 "Michele, always, you are a treasure for all of us vocal jazz instructors. Thank you :) <3."
- Laura Harrison, Capilano University, Professor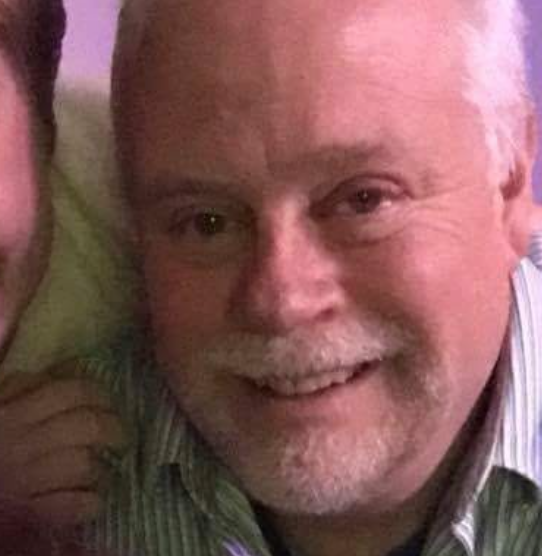 "You never cease to amaze with clarity, calmness and 'concrete content'!"
- Kirk Marcy, Former Member, The Four Freshman
Frequently Asked Questions

When does the class start and finish?
Your class will start and end on the dates you choose. Unless otherwise noted on the Class Homepage, you can take it at your own pace!
How long do I have to access the class?
For as long as the MusicHabit school is up and running you have access to the class! It's always available for you.
What if the course isn't right for me?
If you decide the course isn't right for you for any reason we offer a full money back guarantee within the first 30 days.

Is it possible to get an online lesson?
Maybe, it depends on the teacher's availability. Start by contacting Michele.

Can I give you feedback or a suggestion?
Yes, yes, and yes - we would love to hear from you, thank you. Contact us.
Where can I go for help if I need it?
Ask a question in the MusicHabit Network Facebook Group for support or contact us directly.
This course is closed for enrollment.